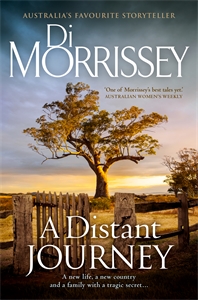 "One of Morrissey's best tales yet." Australian Women's Weekly
In 1962 Cindy drops out of college to impulsively marry Australian grazier Murray Parnell, moving from the glamorous world of Palm Springs, California, to an isolated sheep station on the sweeping plains of the Riverina in New South Wales.
Cindy is flung into a challenging world at Kingsley Downs station, where she faces natural disasters and the caprices of the wool industry. As she adjusts to her new life, Cindy realises that the Parnells are haunted by a mystery that has never been solved. When she finally uncovers the shocking truth, Cindy finds herself fighting to save the land that she has grown to love as her own.
MORE PRAISE FOR A DISTANT JOURNEY
"A sense of place ... the sweep of history, the winds of change which blow through the towns and cities, the forests and farms, the cold mountain ranges and the hot, dry deserts ... fill her books." West Australian