---
Latest news
Di Morrissey was inducted into the ABIA Hall of Fame at a ceremony on 25 May in Sydney.
Morrissey was presented with the Lloyd O'Neil Award for service to the Australian book industry. Morrissey is the author of 24 novels and three children's books, selling more than three million copies in her 25-year career.
Other authors who have received the Lloyd O'Neil award include Peter Carey, John Marsden, Margaret Fulton and Bryce Courtenay. Author Tom Keneally, who received the award in 1995, presented the award to Morrissey.
'Di Morrissey, an old neighbour of mine, has not only distinguished herself through writing novels loved by hundreds of thousands of Australians but—let us not forget—made possible the publication of many books that may not have otherwise have appeared without her contribution to the Australian book industry,' said Keneally.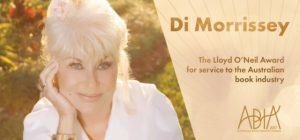 The Red Coast media
Watch Di on Studio 10, (Nov 1, 2017) below.
Listen to Di on The Booktopia Podcast, (Oct 25, 2017) below.
Di appears on the Alan Jones Breakfast Show on 2GB talking about her book The Red Coast. Listen here.
Di features on Channel 7's The Daily Edition to discuss how she became Australia's favourite storyteller. Listen here.
David Prior interviews Di for 2UE Talking Lifestyle Overnight. Listen here.
A Distant Journey media
Di speaks to The Daily Edition about her career beginning and TV, writing 24 books in 25 years, and advocating education in Myanmar. Watch the video here.
William Yeoman talks to Di Morrissey for The West Australian. Read it here.
Listen to Di on ABC RN, Sunday Extra, (Dec 4, 2016) below.
Listen to Di on 3CR Community Radio, Published or Not, below.
Rain Music media
Di appears on ABC Breakfast television to talk about how she became a bestselling author, her philanthropic work and her new book. Watch it here.
Di takes Michael Williams of ABC Radio National to Guyana in South America in this podcast from Blueprint for Living program titled Sense of Place. Listen here.
Rain Music review in The Sydney Morning Herald: Di Morrissey shows the way to another bestseller. Read it here.
Booktopia TV interviews Di about what inspired Rain Music. Watch it above or listen to the podcast version here.
The Co-op interviews Di about her writing process. Listen to the podcast here.
Anthony Zanos from Radio 2RE Taree has "a good old chinwag with their favourite local author". Listen to the podcast here.
Di on ABC Sunshine Coast radio discussing her latest novel, education and starting her own newspaper. Listen here.
Fiona Wyllie interviews Di on ABC NSW State-wide Drive radio. Listen here. 
Di chats with Peter Goers on Evenings, 891 ABC Adelaide. Listen here.
Archive
Click here to view archived news and media.