While current breakfast TV shows feud and fail, the very first groundbreaking Australian breakfast TV show, "Good Morning Australia" changed the viewing habits of Australians, set the agenda for the nightly news and trained a generation of talent and stars. Ironically the successful formula, starting in 1981, was on Network TEN, today struggling to keep its brekkie shows afloat.
Author Di Morrissey was part of that original team.
It was late 1980. Rupert Murdoch owned TEN, always the bridesmaid to Networks Nine, Seven and the ABC. So when he got wind that Kerry Packer was planning to start a show patterned on "Good Morning America" on his TCN 9, Murdoch decided to get in first grabbing, the name Good Morning Australia and be on air in three months. This coincided with Chief of Staff Peter Brennan's decision to leave Rupert's US West Coast newspapers to head back home to Australia.
According to Brennan, he wrote a kiss arse letter to Rupert asking for a job at his newly acquired TEN network, even though he'd had no television experience.
Brennan was one of many notorious News Limited Australian journalists, wild boys, unconventional, fearless, with a mad sense of humour, so Murdoch was prepared to try him in this new medium.
Peter Sutton had been a cadet on the Daily Mirror Sydney when Brennan was Chief of Staff. Sutton had joined TEN News Sydney headed by Tom Barnett and was later sent to Melbourne to direct TEN News with Jana Wendt and David Johnston.
'When I was in Melbourne I got entangled with a girl in Sydney,' says Sutton, 'So I asked to go back to Sydney just at the moment GMA popped up. Rupert had hired Brennan who had all these great ideas but no clue how to glue them together. So I was the one expected to bring that expertise.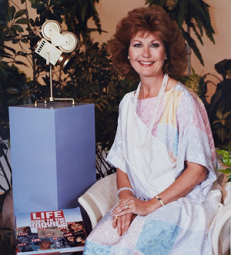 'Brennan and I agreed there was a lot more to TV than sitting reading an autocue. We wanted the freedom to be flexible and have a bit of fun. Brennan wanted to push the boundaries and I was the one to make it make it happen.'
They were given a partitioned off area in Barnett's newsroom and looked for talent.
Brennan, now based in Los Angeles, is still producing television even though he could rest on the laurels of creating "Judge Judy", "Hard Copy" and endless national variations of "G'Day New York", based on the GMA formula.
He recalls that Gordon Elliott arrived at TEN from radio about the same time as he did, so witnessed the GMA preparations. 'Gordon had a great radio voice so I used him as a work horse to audition every radio/TV male host in Sydney and beyond. Turned out he was better than anyone we auditioned so he became the GMA host at age 23.'
Still relentlessly ebullient, Gordon Elliott gives a hearty laugh Skyping from his home in New York where he has retired from being a madcap household name on US TV to producing millions of dollars worth of successful cable TV shows, mainly talk and cooking hybrids, with ratings challenging "The View."
'My role on GMA was to provide unpredictability! We had a hardnosed newsman at the helm, but with a sense of humour, mixing serious political coverage like Laurie Oakes breaking scoops, and proletarian fun like Duck Week. When it was a slow news day we were able to have fun. I hosted the show live off the top of a bus in Sydney streets, we had the world's most buoyant women in a pool in Brisbane. I switched jobs with people like David Hill who was running the NSW trains, so I drove the train and he hosted the show! We had the three sexy Rankin sisters doing fitness sessions in crazy places all over Sydney. You, Di, pioneering the Live Eye interviews with celebrities outside the studio. We had to rely on doing most of the show live which lent an immediacy to it. Viewers tuned in not knowing what to expect.'
The search for the female co-host ended when Sutton and Brennan saw a tape of New Zealand broadcaster Sue Kellaway who was a reporter for TVNZ on a show similar to 60 Minutes. Peter Sutton tracked her down in Bermuda on day three of her honeymoon and asked if she'd be interested in fronting the show. She told him, 'Send me a ticket and I'll be on the next plane.'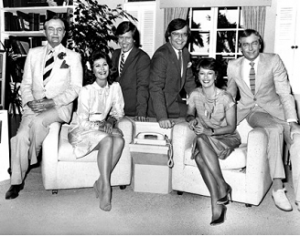 Recently speaking from her holiday home in Mexico, Kellaway (now Bidwill) recalls, 'I felt the timing was right for women to be fronting Australian TV not just doing all the hard work in the back room. I got the job, even though I'd never done live TV and was terrified. I had no idea how to prepare for a daily show of 2 hours live TV. We'd just turn up at 4am at the studio and sit and read the newspapers. I was abysmally underprepared, I was talking about Aussie people and events with no knowledge or background. I had the feeling I was just an adjunct to Gordon as it became clear they considered him their big talent.'
Sue was smart, attractive and not just there for decoration.
'What was weird was that Gordon was 23 and I was 40. Gordon gave me a hard time on air but I dealt with it but he was terrifyingly self confident. He had the advantage of local knowledge, so he could ad lib when needed. I was a lot more comfortable with international stories. But what we really lacked in those early days was good research.'
Laurie Oakes was persuaded to get out of bed at 6m to comment on politics of the day. 'It worked because of GMA's strong news focus,' says Oakes. 'I used to do all the political interviews whereas now the anchors do them. We had a little studio in Parliament House Canberra. Just a cameraman and me did the live crosses each day with no rehearsals and no direction.' Now he remembers the quirky stories better than the hard news.
'There was a rumour swirling that Andrew Peacock had undergone a facelift due to his interest in the actress Shirley MacLaine. During my interview, the cameraman focused on his eyes, showing them as smooth as a babies' bum. But we did treat politics seriously, Brennan always aimed high, get the top man to come on and talk. There's more to cover now with the speeding up of the 24/7 news cycle. Back then I could see TV was taking over from newspapers and setting the agenda for the news of the day. But we had the time to investigate and dig.'
Peter Sutton recalled the important presence of Steve Dunleavy. 'He was the quintessential Aussie rogue newsman who'd made a name for himself on Rupert's papers in New York, but he had a great storytelling gift. So we crossed to him by phone in New York each morning (no satellite link was available then) and he gave us news before it hit the US newspapers.'
The late commentator Buzz Kennedy, became a suave daily favourite with his wry humour and boutonnière, sharing his unique slant on current affairs.
Astrologer Karen Moregold recorded the daily stars once a week which bemused us. (Most of the show was live.)
Brennan heard Tim Webster read the news on Radio 2UW and nabbed him without knowing what he looked like.
'I'd never been on TV, maybe a telethon when I was in radio in Newcastle,' said Webster recently. 'I came from that generation where the first news you watched was at 6pm. So getting stories fresh and first in the morning was satisfying. But I became aware it was more a visual medium when there was a lot of fuss about my hair, and what jacket and tie combo to wear. The bulletins were long and being a radio man, even though there was an autocue, I made sure I had the script in front of me.'
The autocue was typed up to, and during, the show. The paper often jammed and was not unknown for the operator to fall asleep and stop winding through the autocue, stranding the presenter.
Weatherman Ken Brown was working in the TEN newsroom and auditioned for GMA – in a white linen suit. Brownie, (now running fishing charters out of Brisbane) maintains a psychologist should have followed each of us for the first twelve months as the toll of 3am rising and long days, lack of sleep and too many long lunches, resulted in divorces and damaged relationships. A lot of us adopted his alarm clock in a bucket in the middle of the room as the best wake up device.
I was last to be recruited. Arriving home from overseas I saw a snippet in the paper of this planned early am TV show which was predicted to bomb as the belief was that Australians wouldn't turn on their TV sets at breakfast. Being a fan of Barbara Walters and Good Morning America, I rang Peter Brennan who said he only had one slot left to fill – entertainment. I was in. (I'd had my own live morning women's program on CBS-TV Honolulu and been a journalist which helped.)
The three months deadline to air was looming. A youthful Brian Walsh (now Executive Director Television at Foxtel) was hired as TEN's PR wunderkind and had us splashed throughout the media to become household names and the push to persuade viewers to turn on TV at breakfast began. Billboards exploded along highways in every state.
The Friday before we went to air we did a full run down as though for real.
'We did the lot with commercial breaks and by 8.15 am we'd finished,' laughed Sutton. 'John Davies looked at me and went "Christ, what do we do?" Sutton and Brennans' solution (which became par for the course) was to go to lunch. By 6pm and still lunching, they'd stopped worrying about it. Monday came and things went live without a hitch. We went to lunch to celebrate.
'Because it was a new concept, everything we did was new,' said Sutton. 'What helped it work was the flexibility. I think shows today are too structured, too much format control, too polished without the spontaneity. Part of our joy was the fun. We did things wrong, took risks, made mistakes and did mad things. Remember Mr Muggs the monkey we brought in to do the weather one time and read the news the next? Tom Barnett went screaming to management we were demeaning his News, but by the time John Davies had walked very slowly down to the studio it was over and we were doing something else.'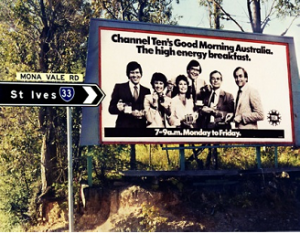 It was fly by the seat of your pants TV. If the signal dropped out or a news story was put to air straight from the camera can and which no one had seen, we lived with it. 'It didn't have to be edited with sound effects and pretty pictures, made to look perfect. People saw it was live, instant, rough and raw,' said Sutton.
Essentially GMA was radio with pictures. The idea was viewers would switch on and listen while they got breakfast, brushed their teeth and if a story caught their attention they went and watched it.
Peter Brennan became a legend. If there was an important story that day, the entire show was dumped to run with it for the whole morning. Whether it was snagging the red bikini girl who'd dived overboard from a Russian ship and swum ashore and then was brought into the studio. Or the time a US aircraft carrier left Auckland headed for Sydney with a female stowaway on board. Word was out and the media began massing at the dock for the mid morning arrival of the ship. Brennan rang the Captain on the bridge, posing as some government official and explained that he didn't want unpleasantness and damaging media coverage so he would be sending a helicopter to collect the girl and whisk her to a private location. This location turned out to be the back lot of TEN where the girl, dazed, smeared lipstick and wearing a sailor's hat, was trundled into the studio to talk to Gordon during the rest of the show.
The modus operandi of GMA was get the story and argue the cost with Rupert later. But when the show made the front pages of the papers and the ratings were good, (high sevens,) there was rarely any argument.
But there were hiccups. Peter Brennan thought that Sue was a serious journo. Too serious. 'She wanted to do stories on politics and medicine and such.' Although we were a news based show, Brennan's tabloid roots were evident and that's what got the ratings. However Duck Week was the breaking point for Kellaway. She had been courted surreptitiously by Sam Chisholm and Ian Frykberg at Nine for its planned morning show (which became TODAY), so Sue left before the year was out to spend months in protracted contract negotiations in court between the two networks.
Her replacement was a Brisbane girl, Kerri-Anne Wright.
'I can't remember how she came on board,' says Brennan. 'She was in the studio and heard we were looking for Sue's replacement. I'd seen her on TV in New York where she was the lotto girl. I thought she looked pretty comfortable on air so we hired her.' (Gordon's description of her big hair and flowery cocktail dress for the audition is less kind.)
Kerri-Anne (now Kennerley) wryly says, 'In the beginning I considered myself just the other pair of legs in the two shots. I kept asking to let me do more serious stuff. In terms of credibility I did have to earn my stripes. I was young and green. I was helped enormously by ex -Murdoch journo Caroline (Squeaky) Beaumont who'd started as a researcher. I scanned those newspapers thoroughly and she helped me formulate questions. Brennan gave me good advice, saying he didn't want me to be a news and current affairs person, but to think what everyday people at home might ask. Be the nice girl next door and ask average questions to appeal to a broad audience rather than academics. The show was fun and that was the point of difference between us and TODAY when it started a year later on 9.'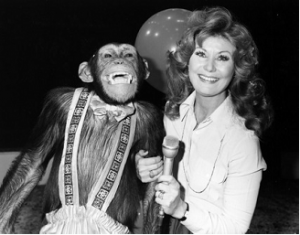 Kerri-Anne was a good sport, always game for anything from jumping into a hot tub fully clothed with Gordon, co-hosting the show with she and Gordon strung in the air from the lighting grid in the studio ceiling. One Christmas all of us, crew included, brought our pets into the studio for the show. Mayhem.
'For the First Anniversary we did the show from Luna Park. That sort of says it all really,' hoots Kerri-Anne. 'People liked us, we were spontaneous and non-threatening, didn't take ourselves as seriously as Steve Liebmann and Sue over at TODAY.'
The public may have liked them both, but relations between Kerri-Anne and Gordon turned from disdain to frostiness that reached the control room.
On air producer Anita Jacoby (now MD of ITV Studios Australia) says, 'It was obvious to us there was an issue. Gordon was condescending as he didn't consider her his intellectual equal. But Kerri-Anne is warm, and bubbly and always upbeat. In commercial breaks they'd sit beside each other and up would come the newspapers until the countdown back on air and they'd be smiling and friendly. I don't think the audience at home ever picked it up.'
'I didn't know Gordon didn't like me until about four years in,' says Kerri-Anne. 'He took the micky out of me but it was the 80s and I was a big girl and at that time TV execs were chauvinistic all the time so you took a deep breath, braved it out and looked out for yourself. On camera I think it worked but behind the scenes we didn't speak for five years. Some mornings I stayed back late and I'd see on the monitors some dolly bird reading the auto cue with Gordon who was setting up his casting couch no doubt. Anyway, I lasted the distance.'
GMA consistently outrated the TODAY show, a deep wound in Sam Chisholm's ego and he sprang random raids on GMA's talent – especially Peter Sutton.
'Here's a contract with your name on it. Fill in the blank where it says salary. Whatever you want,' was how Sutton recalls his first meeting with Sam.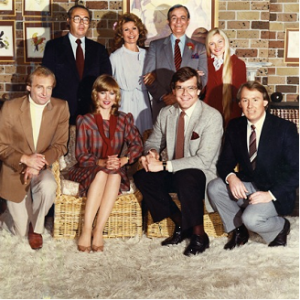 Tom Barnett also had an eye for talent. Young reporter Liz Hayes joined TEN News and did stories for GMA before joining 9 News and later became our direct opposition when she co-hosted TODAY with George Negus.
But it was the arrival of young reporter Mike Munro that really sent the GMA ratings soaring, scoring front page news and sparking government investigations. Tom Barnett had talked Mike into coming over from the Daily Mirror.
'I was a print man, a real reporter, not a TV poser,' recounts Munro. 'I wasn't comfortable so I went back to newspapers and Ken Cowley, Head of News Ltd, sent me to New York. But after awhile Lee and I didn't want to start a family in New York and Tom Barnett convinced me to give TV another go. I knew Brennan and Gordon and so I started doing stories for GMA beginning with the Heroin 84 stories about the heroin wars in Sydney. I went undercover in Sydney nursing homes to expose the scandals. I worked as a nurses' aid with a pocket stills camera inside a packet of cigarettes, no mini cameras back then. It was shocking what I exposed in a series of stories over two weeks which also hit the newspapers and brought about the eventual closure of some nefarious nursing homes.'
Munro used his boyish looks and charm to get himself into the customs hall at Sydney airport where he regularly managed to upstage or snaffle celebrities away from other networks. Even his own.
'Koo Stark, the former (soft) porn actress, ex-girlfriend of Prince Andrew, was flown out to be on Michael Parkinson's show on TEN. I grabbed her at the airport and said I was taking her out the back way to avoid the scrum. She saw the waiting white Rolls and said, 'Do we have to go in that?' And I said no indeed, let's get a taxi. And we had her in the GMA studio before the press knew she was AWOL,' he laughed. 'Tom Barnett saved my job as Greg Coote, the MD of the station, wanted to fire me at the behest of publicist Patti Mostyn.'
Mike's friendship with Gordon meant he filled in for Gordon when he was away knowing he'd still have his job when he came back. (I used to fill in for Kerri-Anne.) Gordon and Mike had a lot of fun. A favourite game was to walk around the huge newsroom without touching the floor.
'We were a team on GMA,' said Munro. 'We'd have walked over hot coals for Brennan and Sutton. But I was in my 20s and wanted to do other things and in '84 was offered a job with Mike Willesee at 9 and than two years later I replaced George Negus on 60 Minutes.'
Tim Webster was quickly snared from GMA to front the 6pm News with Katrina Lee and was replaced on GMA by Ron Wilson, who recently retired after years at 34 years at TEN.
'I came out of radio but GMA was the best training I ever had,' Ron said recently. 'Today the viability of the station is the bottom line. Youthful talent is cheap and desperate to get a start so you have a lot of young people on screen without the history or experience to match the viewers. Today a young audience doesn't rely on TV for their news and information. Once TV stations became playthings for billionaires and accountants are the bosses, then forget it. If you told people today how we managed two hours of live cracking good TV everyday with the limited technology we had then, they'd find it hard to believe. I used to tape interviews on a Nagra reel to reel, go into a red phone box and unscrew the handpiece and play the tape down the line to the newsroom!'
Like Mike Munro, we were all our own producers and editors. My days started at 4am and ended after a movie premiere and party interviews which then had to be edited for the next morning. Once we had the Live Eye satellite available I was able to do interviews most anywhere, but these could be unpredictable. John Cleese agreed to a live chat in his hotel room over his favourite food – seafood. I had Peter Doyle bring up a magnificent platter, but Cleese wasn't in the mood, mooching in his bathrobe wanting to stay in bed. With a minute or so to air, I put on the other bathrobe and joined him in bed, with the seafood platter. As we peeled prawns he began to talk for the first time about suffering from depression.
Producer Christine Morris and clever technicians figured out how I could be in a diver's suit at the bottom of Sea World's shark tank and chat to Gordon back in the studio. I also travelled round Australia shooting general interest stories which gave me ideas for my novels later.
Says Anita Jacoby. 'Today there's too much emphasis on entertainment. People are time poor in the morning and just want the news with a bit of light heartedness for balance. Live morning TV is the toughest gig in the business. And one of the best training grounds if you want to be a program maker. Once the show was done you had to start all over again for the next day. I was often there late at night and found it easier to sleep in the studio than go home to the northern beaches. You had to ring around at 6am to get people to come in and comment on the day's news, so you honed your people skills. GMA was a training ground for a bunch of talented people who went on to make significant careers in TV.'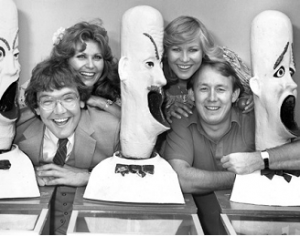 But Anita, like Kerri-Anne, comments on the male chauvinism back then.
'Long after the Brennan and Sutton days were over after the first five or six years the Exec producer was a short fellow who always had low chairs and sat on his desk so he could look down at you. He brought in a bloke who was hopeless, but who ingratiated himself with top management and eventually came back years later as a big cheese himself. He was loathed. One morning I typed "sycophant" and left it on top of his typewriter. He came in and looked at it and surreptitiously went to the dictionary to look up what it meant! See, that was the extent of technology then, no mobile phones, no internet to google, just a dictionary, a land line and a typewriter.'
Brennan left after three years. Murdoch had bought a network in the US and Brennan wrote another kiss arse letter and headed off, soon followed by Gordon, to make their name and fortune in US TV.
By 1992 GMA had morphed into another show. Many names came and went until the show finally ended and Bert Newton snaffled the GMA name and hosted it out of Melbourne as an infotainment show. Frank Lowy who'd bought the station from Murdoch, saw ratings decline and tried for years to get council permission to turn the studio lot at Ryde into a shopping centre. TEN went into receivership and journalist turned businessman Steve Cosser took it over and resurrected it at Ultimo and the grand old TEN studios disappeared under new roads and a rail link.
Brennan sums it up, 'The problem is that people who have senior positions and run stations now, come out of accounting or sales rather than the creative field. The minute you go for the dollar and not the story, where you make sacrifices creatively for the bottom line, that's what kills it for the audience. Unless you keep programmes alive and fresh and worth watching, you'll go out of business. The good times won't come back, if you don't ride through the bad times without compromising a quality product.'
Says Sutton, 'Shows today are too structured, predictable, risk free.'
Now the death bells toll to mark the end of Lachlan Murdoch's dismal reign as Chairman and TEN's plummeting ratings.
With TEN's 50th Anniversary approaching they might do well to reflect on TEN's heyday and a team who flew by the seat of their pants without today's technology, relying on bright people, humour, getting the story first.
Di Morrissey is Australia's #1 bestselling female author